Basic Model Designs
Cantilever Mounting Types–to fit flanges of Air Force/Navy aeronautical design standard AND20001, AND20002, AND20006, and AND20007 pads
Adapters can be provided for any other size.
A. Flange-mounted units for direct mounting on prime mover; heat rejection to water used to measure power absorption

B. Flange-mounted units complete with detachable cradle and torque arm; power measured by any of conventional methods

C. Flange-mounted units complete with cradle, torque arm, load cell support, and load cell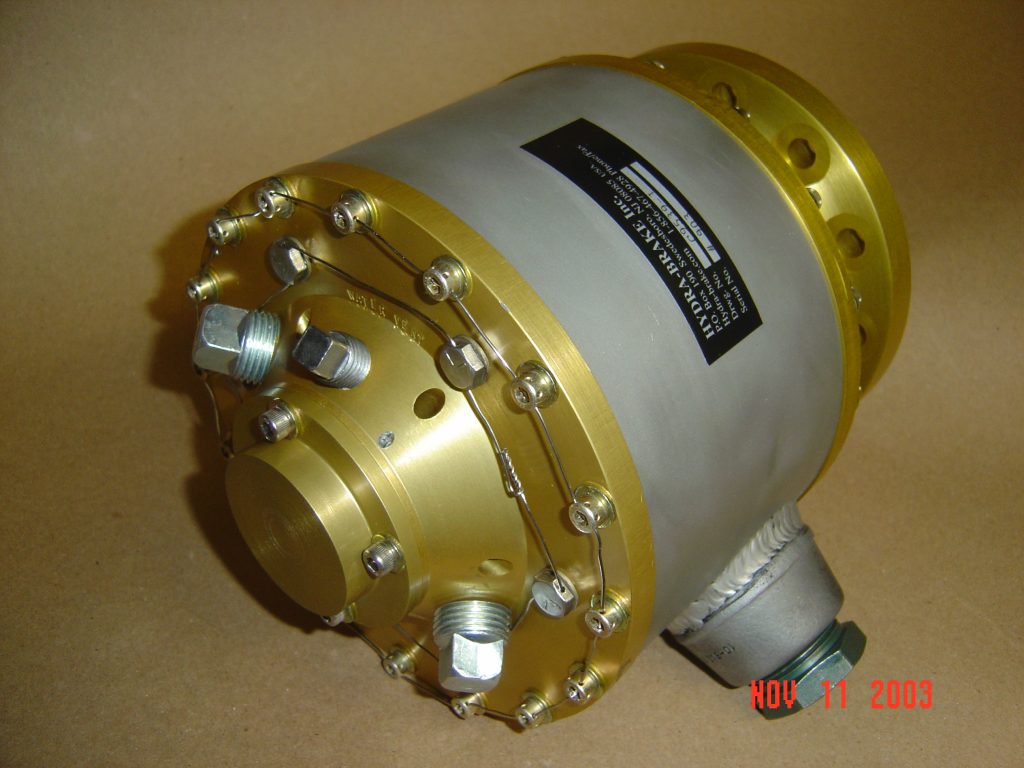 Pedestal Mounting Types
A. Where no mounting flange is available on the prime mover, a pedestal can be furnished for mounting the cantilever models on an independent base.

B. In certain applications, it is not practical to flange-mount the brake. A conventional pedestal with trunnion bearings straddling the Hydra-Brake® is then used. Manually operated or motor-rotated trunnion bearings can be furnished as required. For some applications, hydraulic lift bearings are used.
Many other types of Hydra-Brakes® have been designed and manufactured. One of the smaller models was a flange-mounted unit with 5″ casing diameter, 6″ long, weighing 10 pounds. This Hydra-Brake® was used to simulate an accessory on a jet engine gear box, and the brake absorbed 20 hp at 6,500 rpm.
One of the larger Hydra-Brakes® was designed for conventional pedestal mounting. This brake absorbed 3,000 hp at 3,600 rpm to 8,000 hp at 5,000 rpm.